Manual Deactivation of Apple Activation Locks
---
Every iPhone, iPad and iPod Touch needs to have Apple Account Locks removed before they get shipped to Phobio.
1. Open the Settings icon on the device's home screen:
2. Tap iCloud in the Settings menu
3. If you see that Find my iPhone is turned on, tap the button to turn it off
4. A pop up window will appear requesting the customer's Apple ID and password. Enter it, then tap Turn off to confirm
5. Done! Now the device can be completely erased.
Remote Deactivation of Apple Activation Locks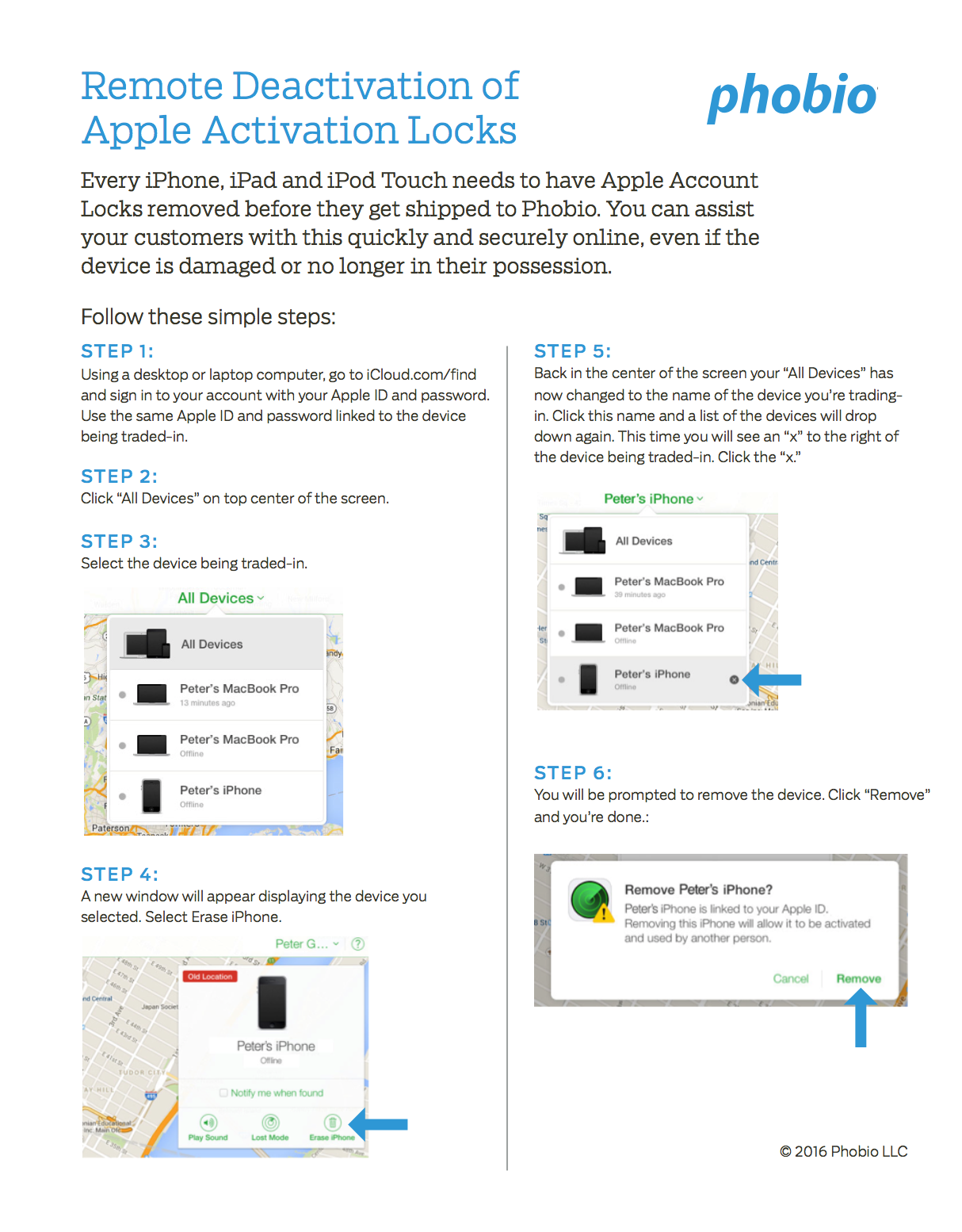 Step-by-step walkthrough of Disabling Google Reactivation Lock Manually
Step One: Swipe Down from top select gear wheel for "Settings"
Step Two: Scroll down to the Accounts section
Step Three: Tap each linked account Email address, More, and Remove account
Step Four: Tap Back arrow Backup and Reset
Step Five: Then tap Factory Data Reset at the bottom
Step Six: Tap Reset Device
Step Seven: Tap Delete All
For AT&T Galaxy's, you will be prompted to confirm the new password on the next screen.
Enter a New Password (1234 to keep it simple), then tap Confirm.
The device will power off and erase itself.
When it powers on, the device will be wiped and require a network connection.
Your customers can also remove the Samsung Lock securely online.
Please contact each customer for whom you have traded-in a device with Samsung Lock intact, and instruct them on how to remotely remove the reactivation lock. Here are some Instructions which you can send them:
Congratulations on your trade-in!

Please protect your data by securely removing the old phone from your Samsung Account immediately.

Go to https://findmymobile.samsung.com and sign in to your Samsung Account with your email and password
Select the device you traded in
then Unlock Devices and select Disable Reactivation Lock
Done! The old device will be remotely erased and removed from your Samsung Account and shared data.
Step-by-step walkthrough of Disabling Samsung Reactivation Lock Remotely
Step One: Go to https://findmymobile.samsung.com. Here you will need to sign into your Samsung account using your email and password
Step Two: Once you log in, to the top left corner you will see Display a registered device. Click on it and find your device associated with your phone number. Once you find and click on it, you will connect to it and should see 3 green boxes that read ON
Step Three: On the left side of the screen you will find Unlock my device – click it, and you will see two options.
Unlock my screen
Disable Reactivation lock
Click on Disable Reactivation Lock.
Step Four: Once you click on Disable Reactivation Lock, this screen will pop up asking for your Samsung account password.
Step Five: Type in your Samsung account password that you used to login in, and click the Unlock Button. If done correctly you will see this message